James Hetfield on the Cover of Cigar Aficionado Magazine, Wearing Silver Luthier Ring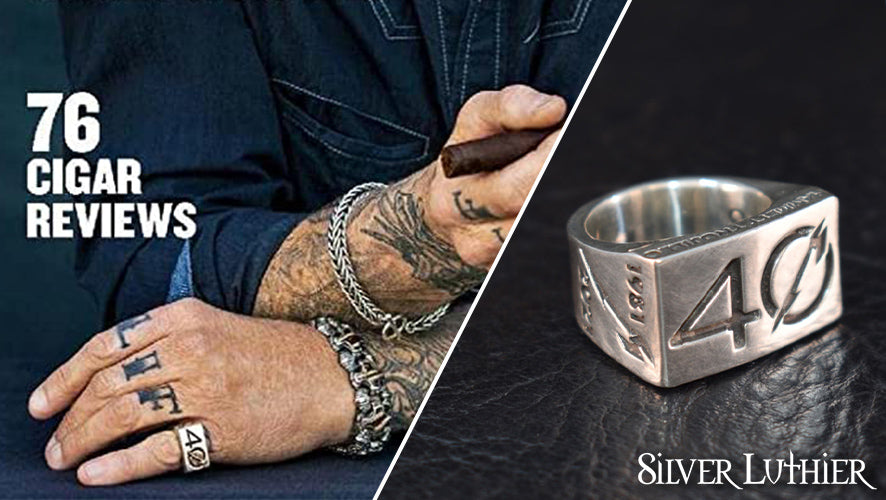 April 2023 issue of Cigar Aficionado magazine has featured on their cover, none other than Mr. James Hetfield looking quite dapper.  Also appearing on the cover if you look closely, is the 40th anniversary ring on James' left hand, made by Silver Luthier!  The first 40 rings were a limited edition version, James of course got #1, Lars #2, Kirk #3, and Rob, #4.  The rest were sold out in 65 seconds to the members of Metallicas 5th member fan club.
It is a great article, talking about James' childhood, his journey through music and his phenomenal success as one of the worlds greatest front men for hard rock band, Metallica.  
Reading this article I hadn't realized that James was into cigars!  And there was a line of cigars out called M81, a nod to Metallica being founded in 1981, by Drew Estate.  A collaboration between James Hetfield, Rob Dietrich of Blackened Whiskey (An amazing whiskey if you haven't tried it!) and Jonathan Drew, of Drew Estate.
Naturally we had to grab a bunch of these and they are great cigars!  So pour yourself a few fingers of Blackened Whiskey, light up a M81 cigar of your choice, put on some Metallica, and take a break from the hustle for a while!
---